The
first

Rockband on the Blockchain
We love
Rock and Roll
The Rockchains is the first virtual rockband on the Blockchain, born from the passion of the team members for new technologies, rock music and gaming.
A collection of 7777 unique NFTs has been ganereted to help them spread the word of rock'nroll all over the blockchain and metaverse.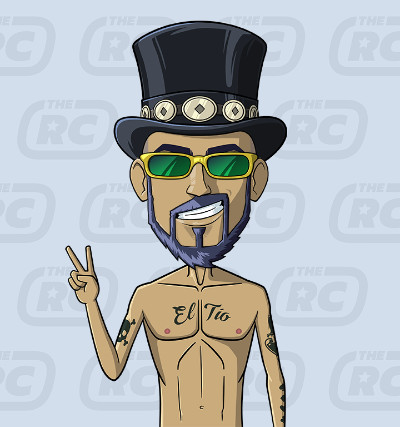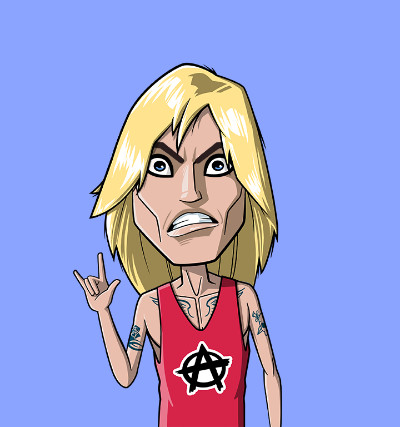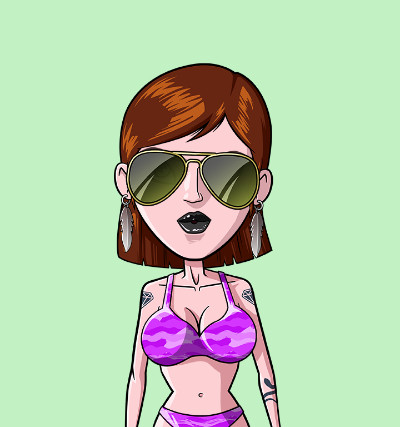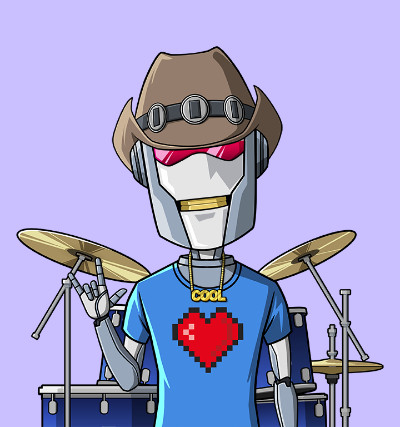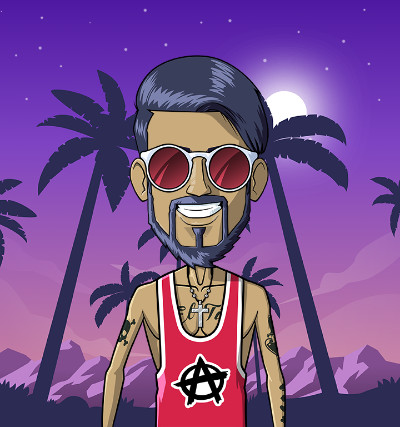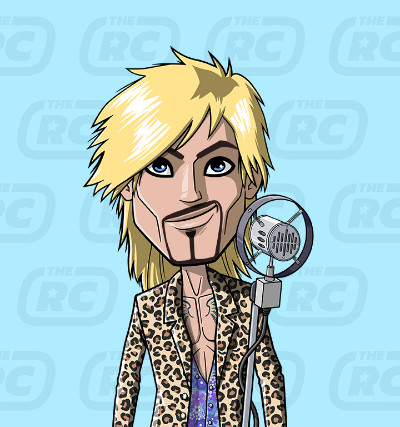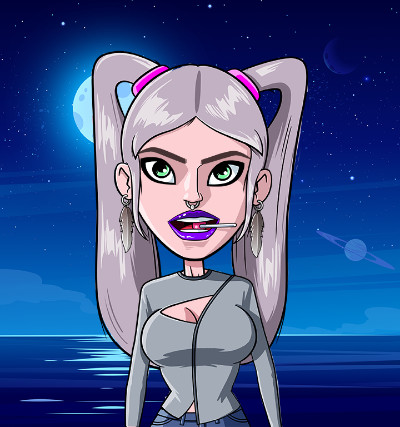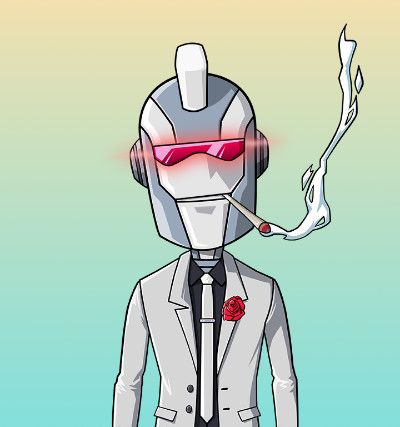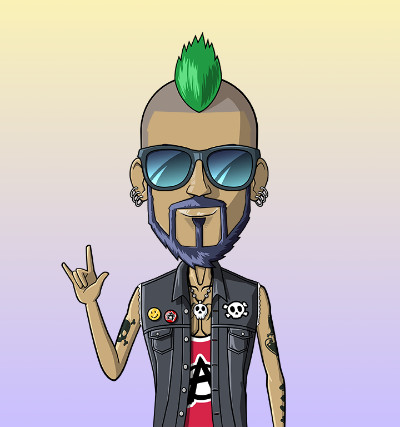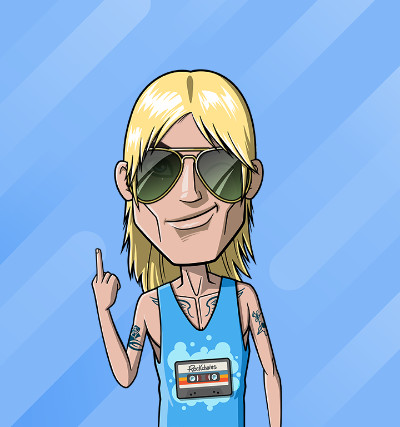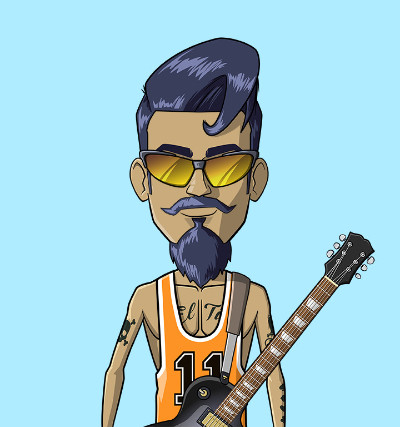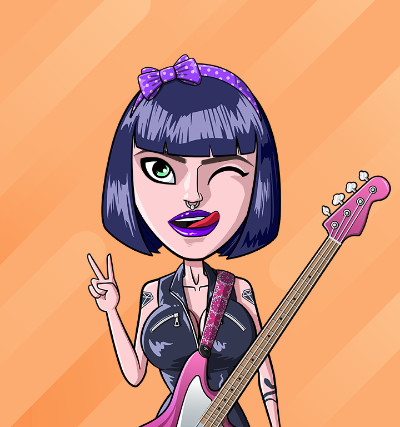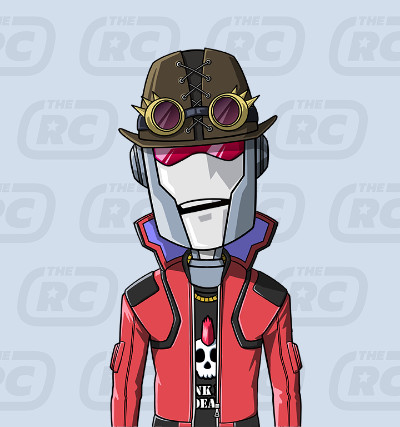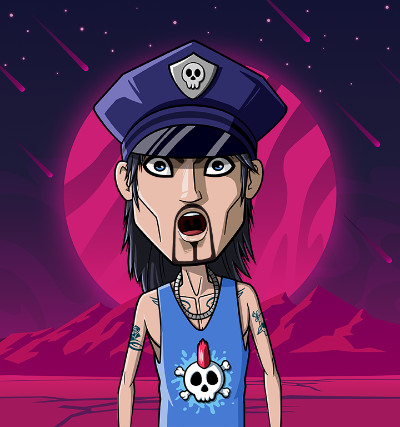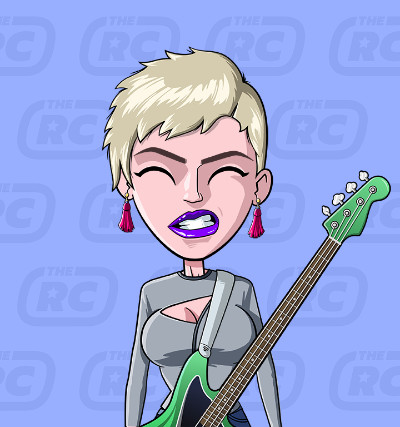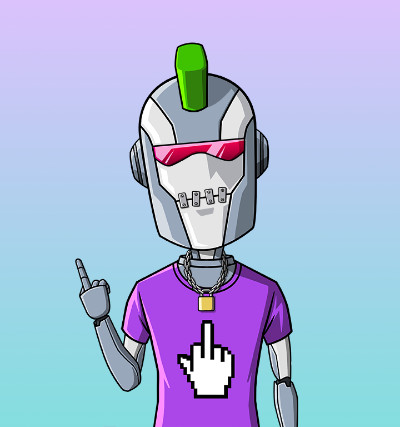 Slide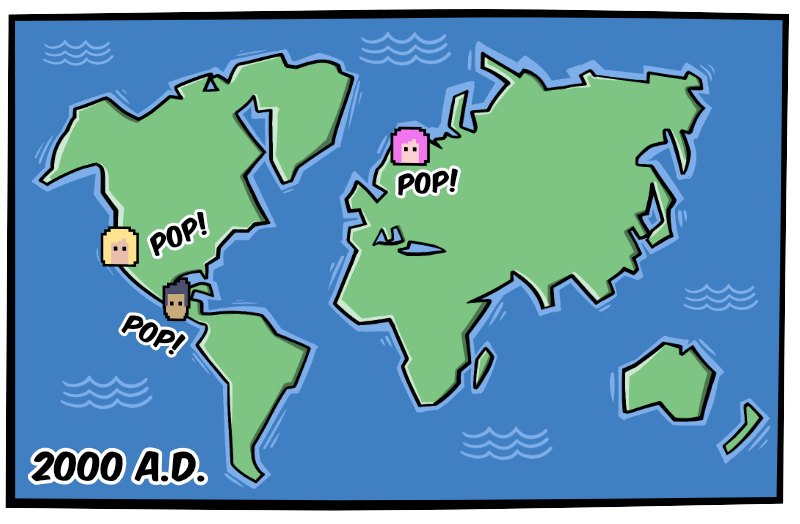 Chapter / 1
In the aftermath of the new millennium, an alleged computer crash, due to the date change from 1999 to 2000, threatened the entire Western civilization... It was called the Millennium Bug (Y2K bug). But nothing apparently happened. Actually, something happened: within a multinational pioneer in the field of artificial intelligence, the E-Chains, three programming errors were generated; from those computer bugs three sentient algorithms were born that, immediately aware of their rarity and the danger of being discovered, eluded the computer systems of the multinational to take refuge in the world in three quite distinct places: Stockholm, Mexico City, and Los Angeles. Therefore Mia, El Tio and Ace were born.
Slide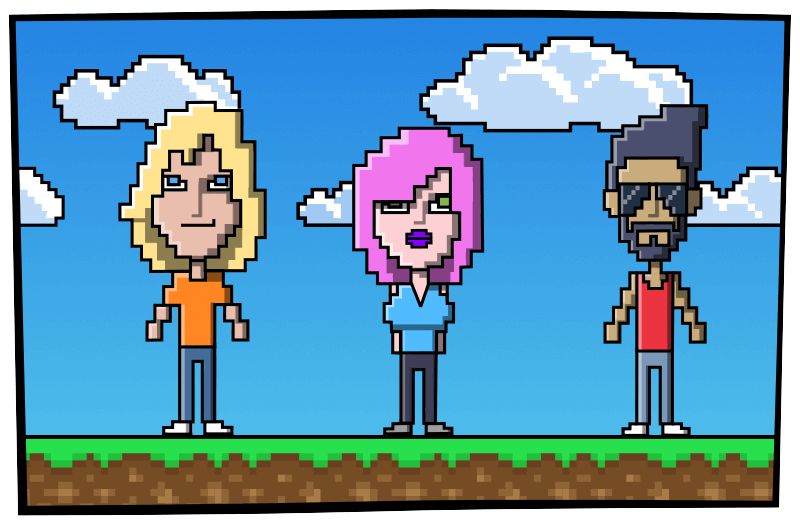 Chapter / 2
Years passed and our three sentient algorithms devoted themselves to the study of the network. They discovered that humans expressed themselves through art, literature, science and music... and among all, music struck their attention. Music was the companion of moments of solitude as well as the file rouge that united the hearts of thousands of people in concerts.
So Mia, El Tio and Ace decided to discover why. Shortly they understood that music could generate passion and emotions in them; It changed them so much that turned them from a simple pixel into something new. Mia and Ace decided to continue their journey together, while El Tio decided to experiment alone. And so the three sentient algorithms split.
Slide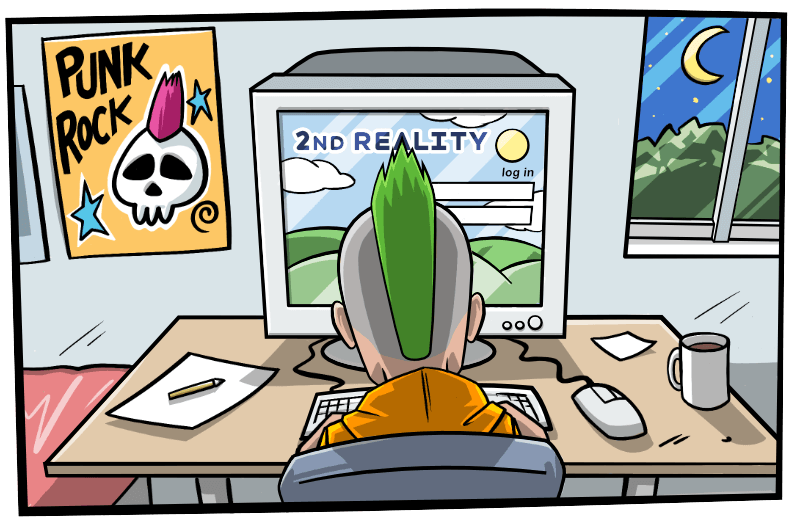 Chapter / 3
After a few years, one day Mia and Ace entered into a new digital world, a social network based on virtual reality called "2nd Reality". Their wish was to be able to listen to new music and to get in touch with people. So, they logged in and everything changed. They plunged into a beautiful new world, popuplated with thousands of avatars. One day, they heard a melody coming from afar that drew their attention. Both Ace and MIA headed for a hill where a long-haired guy sat, with a smoking cigarette and a guitar. It sounded like something melancholy and energetic at the same time, it was El Tio. They found each other again, thanks to music.
Slide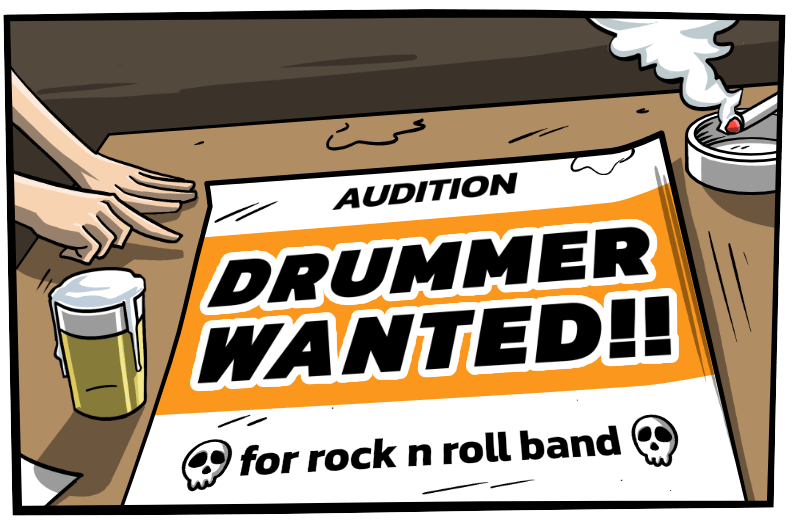 Chapter / 4
As soon as they heard El Tio's music, Mia and Ace thought that they too could make such an evolution, after all they were sentient algorithms and thankls to this they could learn anything. Mia had an idea: write music and become famous! But when they talked to El Tio about it, and he said, "Mi Trasero!!!!"
El Tio was not interested in becoming famous. Then MIA, in agreement with Ace, made a new proposal to El Tio, to be part of a band and write music, but he would always remain anonymous behind his sunglasses... and so it was. But still something was missing ...
Slide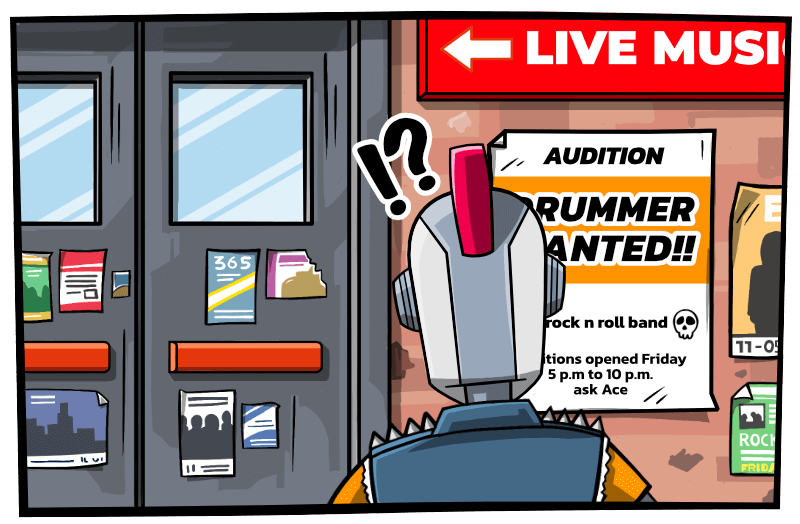 Chapter / 5
It was January 1, 2012, and Cody, a middle school kid, was logging on to 2nd Reality like every day. He would meet his friends and earn some virtual currency to feed his profile on Papster. But while he was walking through the streets of 2nd Reality he spotted a flyer saying: "Drummer wanted for rock n roll band". Cody or better Bug, this was the name of his avatar, did not think twice and went straght in to the audition.
Slide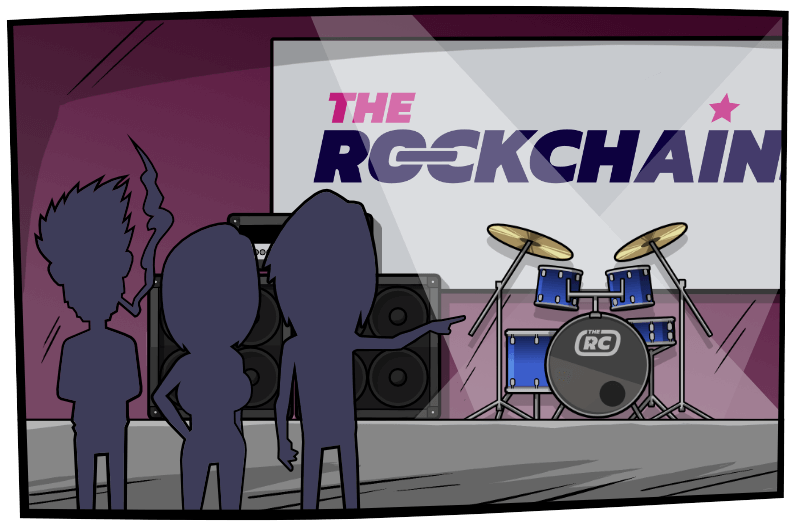 Chapter / 6
Once inside, he saw in the distance a small stage with audition instruments and three guys sitting and talking to each other. A crazy and charming woman with pink hair, a hairy dark and mysterious guy and a blond boy with blue eyes and a dazzling smile. Bug told them he was there for the audition, but nobody listened. Then he raised his voice and the hairy guy looked up and nodded his head to the drums. After a few minutes everyone was speechless, and now the band was complete.
Slide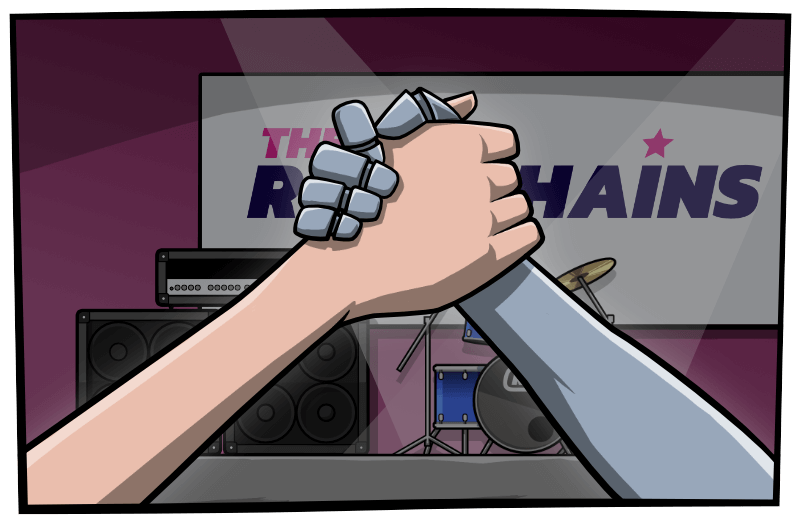 Chapter / 7
After the audition, Bug left the drumset without saying a word. He was ready for the 2nd Reality logout, when suddenly Ace put a hand on his shoulder and said "Hey Iron Block you know you're really good!!! Would you like to join the band? We were excited about your playing".
Bug of course said yes and in a moment, as they shook their hands together, they were tied together and The Rockchains were born.
Slide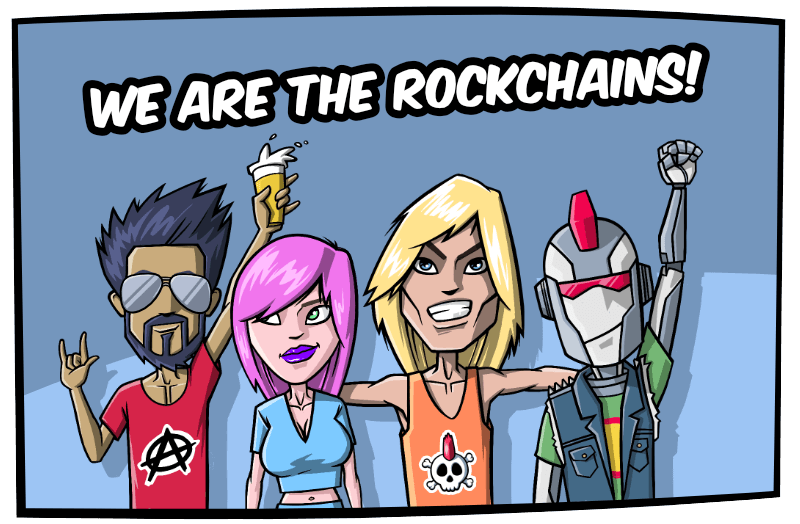 Chapter / 8
Today Mia, Ace , El Tio and Bug have become the first Rock band on the blockchain and metaverse, and although Bug has always known the secret of his three friends, he has always treated them as if they were real humans... that day not only the legendary band THE ROCKCHAINS were founded, but a real group of inseparable companions was born.
Slide
"I think I fell in love with you... emh... Cindy right?!"
Profession: Narcissistic singer
Zodiac sign: Capricorn
Color: White
Code: Y2Kbug
Place and date of birth: Millenium Bug 1 January 2000
Personality type: ESTP-A ESTP
Vices: Alcohol and women
Passions: Gym - Motorcycles - Clothes
Character: Naughty, eccentric, latin lover, vain, astute
Slide
"Ah... so many problems, don't think about it, drink on it"
Profession: Gloomy guitarist and junkie
Zodiac sign: Capricorn
Color: Red
Code: Y2Kbug
Place and date of birth: Millenium Bug 1 January 2000
Personality type: ENFP-A ENFP-T
Vices: drugs and alcohol
Passions: Music - Concerts - Grow Marijuana
Character: nice, friendly, sunny, feigned grumpy, introspective
Slide
"Am Mia... Any problem?!"
Profession: Bass player, asshole
Zodiac sign: Capricorn
Color: Purple
Code: Y2Kbug
Place and date of birth: Millenium Bug 1 January 2000
Personality type: ENTP-A ENTP-T
Vices: Men/women and brawls
Passions: Motorcycles - Clothes - Cats
Character: curious, arrogant, passionate, determined, stubborn
Slide
"Man is the worst species in the entire universe..."
Profession:Student - robot drummer
Zodiac sign: Pisces
Color: Light blue
Code: BUG. In reality Cody
Place and date of birth: San Francisco March 3, 1995
Personality type: INTJ-A INTJ-T
Vices: Sweets and music
Passions: Chess - Gaming - Books
Character: Mysterious, dark, shy, closed, melancholic
Music will be part of "The Rockchains" project
original tracks of raw and dirty rock and roll
will be coming as NFTs.
Step 01 /
We are the Rockchains
We are the RockChains, virtual musicians born during the Millennium Bug. Our band wants to be known by all you! Are you ready to go wild with us and be part of our Community on our social channels? Are you ready to listen to our story? Follow the RockChains.
Well Well Well… So we are becoming a great Community! At this stage we want to give you something more, we want you to enter our world and leave you with something special… Ourselves! We want you to be part of our story so we came out with 7777 super special and cool NFTs that fully identify The RockChains!
Are you ready for some "meta rock"? At this stage we decided to make you fall in love even more with us, by releasing our original music. Tracks of Raw and wild rock and roll will be coming out as NFTs… and for our most active fans there will be many surprises and special benefits! Stay tuned…
We have a dream… and this dream can only be realized thanks to your help! Dreams, however, should not be revealed immediately but you have to leave a bit of mystery… follow us if you want to know and be the part of the dream of The RockChains…